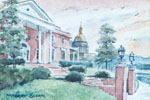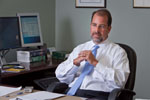 Tribute
The Honorable Elizabeth V. Hallanan
Judge Elizabeth V. Hallanan served with distinction as the first female state court judge in West Virginia (1959-1961), and later as the first female federal court judge in West Virginia. She began her service as a United States District Judge for the Southern District of West Virginia in November 1983, assumed senior status in December 1996, and served until her passing in June 2004. Judge Hallanan presided over a variety of high profile cases concerning school prayer, prisons, child support enforcement, criminal prosecution under the Clean Water Act, and federal agency misconduct.

Governor Cecil H. Underwood
Cecil H. Underwood served as the 25th and 32nd Governor of West Virginia from 1957 until 1961 and from 1997 until 2001. A teacher, farmer, and state legislator, he was both the youngest and oldest person ever to serve as Governor of West Virginia. Among his many accomplishments, Governor Underwood served as co-chairman for the Appalachian Regional Commission in 2000. His notable appointments included Elizabeth V. Hallanan as Kanawha County Juvenile Court Judge in 1959.